At Capacity
MARCH MAYHEM Flag Football (Turf) · Male Advanced
Sold Out
Team Fees

Early Bird

25.0

per player

Regular

30.0

per player
Free Agent Fees

Early Bird

25.0

Regular

30.0
Welcome to ZPS Flag Football
Tournament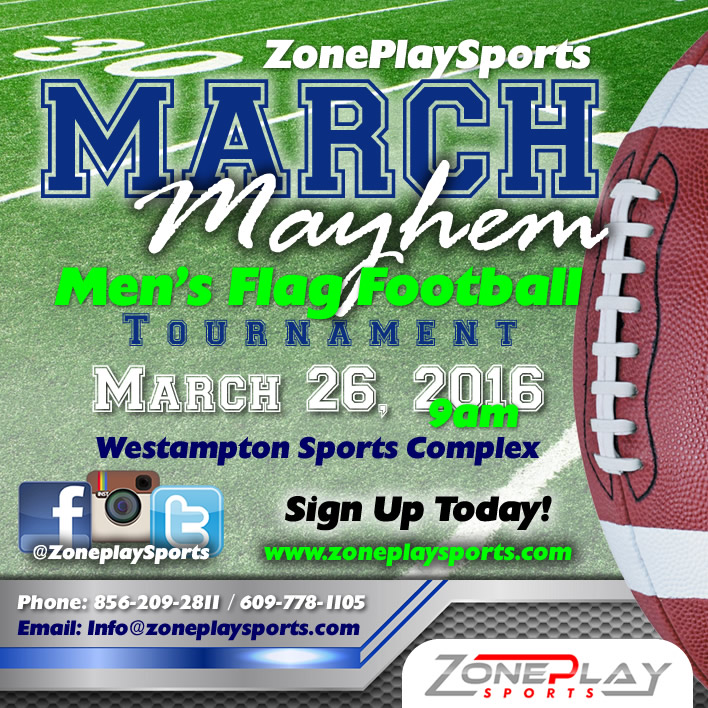 TOURNAMENT DESCRIPTION

Welcome to MARCH MADNESS edition of ZonePlay Sports flag football. MARCH MAYHEM!! Saturday March 26th, 2016 bring your best squad out to the Westampton Sports Complex to try and win the $800 cash prize and Guaranteed spot in the NEW ZPS "ELITE 8"!! The ZonePlay Sports men's flag football tournament will feature some of the best athletes from around the Tri-State area. Teams will play 6 on 6 (1 Ineligible Lineman). Games will consist of Two 15 Minute Halves.

TOURNAMENT DETAILS

# of Games: 3 Guaranteed games


Number of Teams: 16

to 20 teams

Location: Westampton Sports Complex


Skill Level: Ultra Competitive, Elite Skill Level
WHAT YOU GET

Guaranteed 3 Games

Chance at projected Cash Prize $3000(Currently)

1 game elimination after playoffs start

Pts toward ZPS "ELITE 8"

Referee Scheduling/Staffing

ZonePlay Sports Tournament Director on site all day

State of the Art Turf Fields

CHAMPIONS: Receive Guaranteed Spot in "Elite 8" tourney($3K) and $800 Cash Prize.

GENERAL NOTES
Player Registration: $30(Ref Fees Included)
MAX TEAMS: This tournament will have a maximum of 20 teams. First 20 teams to pay in full will garuntee their spots. Your spot in this tournament is NOT CONFIRMED until you are 100% paid in full. Must be 18+ to participate.